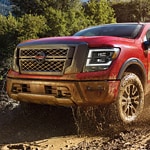 Whether you're looking for a truck for business, recreation, or family travel, the Nissan Titan is certain to appeal to you. You can explore the latest Nissan Titan line-up today at Nissan of Meridian in Meridian, MS, and learn about the many extras that can be incorporated to make it the perfect vehicle for you.
The available list of accessories includes things that are meant to boost the appearance, increase convenience, enhance versatility, or all of the above. You'll be able to keep your important items corralled in both the cab and bed inside the optional locking cargo boxes. For added style and protection from the elements, you can also choose a tonneau bed cover from several different styles.
Uniquely configured door kick-plates will prevent unsightly paint scuffs while water-resistant seat covers can protect the Nissan Titan's interior from spills and stains. Taking advantage of the advanced towing hardware elements will prepare your Nissan Titan for hauling campers, trailers, and other items with ease.