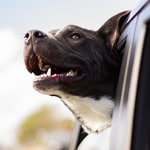 Taking your pets on a road trip with you doesn't have to be overwhelming or stressful. You can easily find a way to keep everyone comfortable and happy for the entire duration of your trip. Nissan of Meridian in Meridian, MS has some tips to make the process simpler.
-Your pets may not be happy being cooped up in the car for too long. Plan on making frequent stops to get out for a bit, even if this is going to add to the overall length of your trip.
-Always make sure that the interior temperature of your vehicle is comfortable for your pet. Never leave them in the vehicle unattended, even if it's for a few minutes.
-Pack extra water, food, and treats so you don't have to worry about running out while you're on your trip.