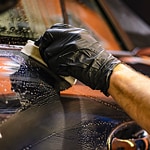 For effective car detailing in Meridian, MS, you need to choose the proper cleaning for clothing. Back then, most people would use a sponge to clean the car, but car detailers no longer use it. You will need a smooth microfiber piece of clothing for effective vehicle detailing.
Microfiber piece of clothing is easy to use when washing. The cloth will clean your car's paintwork without causing any scratches and blemishes. The microfiber cloth is smooth and will cause less friction on the car's paintwork. If you need fast and effective washing and drying, you will need two microfiber cloths.
You will use one microfiber cloth for washing and one for drying. Always keep your washing and drying cloth separately. The drying cloth should always be dry. Before using the microfiber cloth on the car, check it and ensure it does not have any labels that might scratch the vehicle's paintwork.