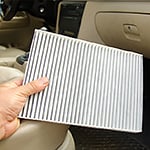 If your air quality is feeling uncomfortable or you're experiencing difficulty with your car's performance, you might want to check your cabin and engine air filters. We'll help you take a closer look at these essential components of your vehicle, and what you need in Meridian, MS to properly care for them.
Your interior needs clean air to provide a healthy environment for you and your passengers. Your cabin air filter helps you maintain fresh air by preventing allergens and dust from entering your heating and cooling systems. Engine air filters are responsible for maintaining engine life by blocking off debris, gravel, and other environmental debris.
As with any auto part, Nissan of Meridian wants you to be aware of the lifespan that each of your filters has. Cabin air filters usually require replacement after 20,000 - 30,000 miles, while engine air filters have an average lifespan of 12,000 - 30,000 miles. Increased air pollution or harsh driving terrain may require you to replace your filters more often.