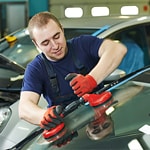 For the folks in the Meridian, MS area, Nissan of Meridian can help with windshield chip repair problems. The technicians in our auto service department want you to know that you should never put off having a chip or crack in your windshield repaired. Doing so can result in a less effective repair when you finally get around to it.
You should also know that it is not a good idea to put any kind of adhesive into the chip. A piece of clear packing tape placed over the chip is the only thing you should do to the windshield before getting it repaired. The tape will protect the chip from dirt, debris, and water from getting into the cracks.
If you want to avoid the most frequent cause of windshield chips, be sure not to follow too closely behind trucks and similar vehicles that are notorious for picking up debris off the road and throwing it onto other vehicles.