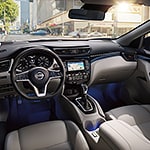 The Nissan Rogue Sport is a popular compact SUV that can be made even better. With Nissan's line of Rogue Sport accessories, you can make the inside and the outside of the SUV look more special and have more utility. Here are a couple of the most popular accessories available for the Rogue Sport.
When you go driving off-road or in the rain, you want to make sure that your feet don't make a mess inside your Rogue Sport. That's where the all-season floor mats come in. These floor mats can be easily washed and are designed to last for years.
Don't worry about putting small items in the rear of your Nissan Rogue Sport. Also available from Nissan is an expensive and durable cargo net that allows you to keep the back of your Rogue Sport's cabin under complete control.