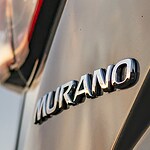 The Nissan Murano, an AWD crossover, is popular with our customers in Meridian, MS, and we know that you will also appreciate the many amazing performance features that this vehicle has to offer. We'd love for you to see these features for yourself, so stop by Nissan of Meridian for a test drive.
Stopping and starting on a hill can be a stressful event if there is a vehicle behind you. With the Hill Assist feature of the Nissan Murano, starting on a hill is a breeze. By maintaining the brake pressure, the Hill Assist feature gives you plenty of time to release the brake and press the accelerator.
This vehicle has an Intelligent All-Wheel-Drive feature that we are super excited about. As driving conditions change, the Nissan Murano is able to automatically change to two-wheel drive and back to four-wheel drive. This not only increases performance, but it also increases fuel efficiency.